Clear Candy & Caramel Wrappers
Clear "Cellophane" Sheets For Wrapping Candy & Caramels - Simply, Wrap and Twist!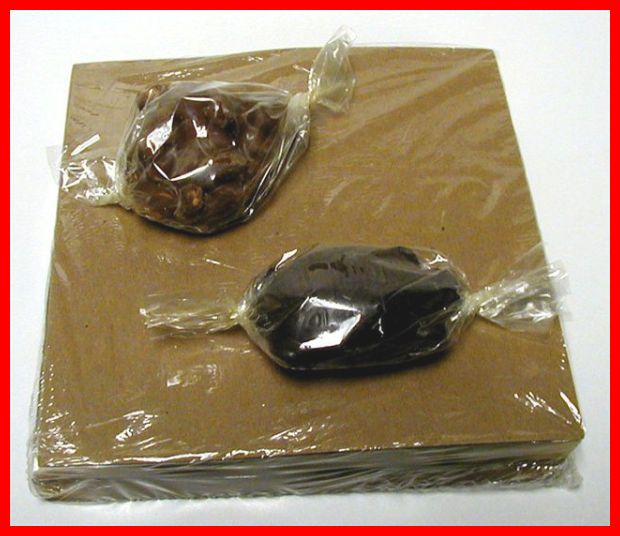 All clear candy and caramel wrapper sheets are made from 250-OX, .76 mil thick Cellophane.
Cellophane wrappers are available in
CLEAR ONLY.
No Colors, No Printing, No Designs, NO Logos



Simply, Wrap and Twist! - Voila! You're Done!
These are the Classic Crinkly Clear Cellophane Candy Wrappers that
Candy and Chocolate Makers Use!
Ideal for wrapping…. Chocolates, Caramels,
Hard Candy or Suckers. Just place your item in the center of the Cellophane Sheet…WRAP them up and TWIST the ends.

"Cellophane" has been used to bag and twist-wrap candy for as long as the
twist-wrapping packaging method has been around. "Cellophane" is supreme because of its natural dead-fold characteristics. Put simply, once folded or twisted, "Cellophane" does not spring back because it lacks the molecular memory of plastic and polypropylene and does not, therefore, fight to return to its previous form. Cellophane Sheets are weighed for accuracy, counts are approximate.Cellophane sheets are FDA approved for direct/indirect food contact.
NOTE: By CLICKING on any image in our store will enlarge it, to give you a better
visual image of the product. It will not show you the actual size of the item for sale.
All items inserted and shown in bags or wrappers for sale are for display purposes only.
NOTE:Due to WORKER SHORTAGES USPS Priority Mail is experiencing extended
delivery delays up to 5-7 days in some areas. Also UPS is experiencing extended
delivery delays up to 3-5 days in some areas.
SAVE 10% OFF ANY ORDER OVER $100.00 - Enter The Promo Code: SAVE10OFF100
Then CLICK APPLY To Receive - 10% OFF Your Order Of $100.00 Or More.

WE DO NOT SHIP TO CANADA OR ANYWHERE INTERNATIONALLY

Serving our customers online since 2008 ClearCelloBags.com.
No part of this website maybe copied or published without expressed written consent and permission from ClearCelloBags.com. Online prices, selections, descriptions, specifications
and images generally match,but may vary and are subject to change without notice.
NOTE: All images of products are for display purposes only
and do not represent the actual size of any item.