BRICK BOTTOM CELLO BAGS
BRICK BOTTOM CELLO BAGS THAT STAND UP
BRICK BOTTOM CELLO BAGS THAT STAND UP
They DO NOT HAVE A CARDBOARD INSERT
These Stand Up Brick Bottom gusseted bags are made from 1.57 mil cello (Polypropylene)
safe for direct food contact. They DO NOT HAVE A CARDBOARD INSERT but allow
heavyweight products to stand properly for display. When displaying your product is as
important as the product itself! These bags feature the tightest seal possible
to ensure fine powders don't leak. Perfect for sugars, powders, mixes, and
many other items. These bags are open-ended for easy insertion of your items.
Bags can be Impulse Heat Sealed or closed with a colorful twist tie, ribbon,
or folded over and sealed with tape or a sticker.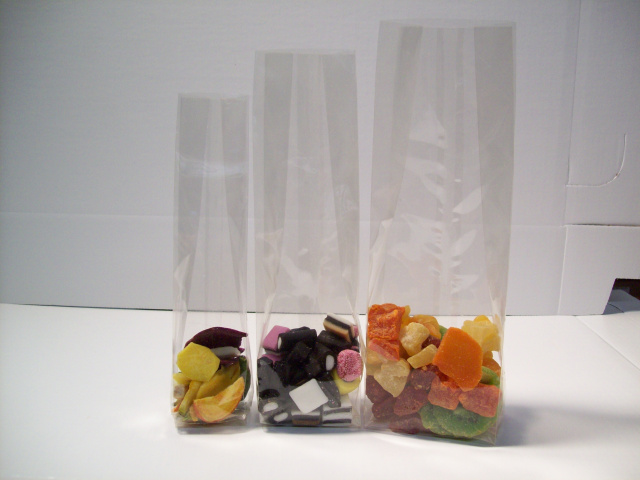 CELLO BAG BRICK BOTTOM FILM - SPECIFICATIONS
1.57 mil Oriented Polypropylene (OPP)
Product performance best when stored at 72oF at 50% RH Storage
Cond: Dry, No Direct Sunlight, Moderate Temperatures (50 o F -75 o F)
Food Contact: DIRECT - This product conforms to the applicable regulations to the
Food and Drug Administration 21 CFR 177.1520 (c) 2.1, (c) 2.2, (c) 3.1a, (c) 3.2a, 21 CFR 178.2010 f
or use in contact with food. Finished articles may contact food only under Condition C through H
described in Table 2 of 21 CFR 176.170(c) at temperatures not in excess of approx. 150° F.
BPA Content: This product does not contain Bisphenol A (BPA) and complies with California's
OEHHA Proposed Dermal Safe Harbor Level for BPA Proposition 65: This product complies with
California Prop 65 (Safe Drinking Water and Toxic Enforcement Act of 1986) including List of
Chemicals April 8, 2016. Odor: The specified raw materials contain no odorants. Synthetic Fungicides,
Preservatives, Fumigants: Based on information supplied to us by our suppliers, the specified materials
do not contain any synthetic fungicides, preservatives, or fumigants.
SAVE 10% OFF ANY ORDER OVER $100.00 - Enter The Promo Code: SAVE10OFF100
Then CLICK APPLY To Receive - 10% OFF Your Order Of $100.00 Or More.
WE DO NOT SHIP TO CANADA OR ANYWHERE INTERNATIONALLY
Serving our customers online since 2008 ClearCelloBags.com.
No part of this website maybe copied or published without expressed written consent and permission from ClearCelloBags.com. Online prices, selections, descriptions, specifications
and images generally match,but may vary and are subject to change without notice.
NOTE: All images of products are for display purposes only
and do not represent the actual size of any item.